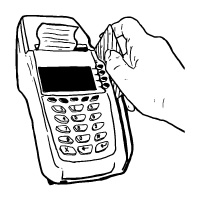 We currently accept the following types of payment:
Bank transfer (Indonesian customer only)
Credit Cards (Indonesian and Worldwide International Customer)
Paypal (Worldwide international customer)
Payment can be made only using the methods above, and payment for your order will be charged immediately once confirmed.
The total amount you pay is the same regardless of the payment method.
Bank transfer and credit cards payment are secured by Xendit payment system. Please refer to Xendit website for payment options, guide and policy – https://www.xendit.co/id/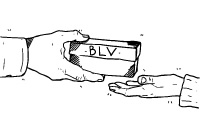 DOMESTIC ORDERS
Domestics orders are being delivered through SiCepat. Please check SiCepat website for terms and conditions. Domestic shipping will take about 1-3 business days to reach your destination.
Orders are dispatched once a day from Monday to Friday at 4 PM, orders received after 4 PM will be processed the next business day.
INTERNATIONAL ORDERS
Bluesville offers worldwide shipping with insurance and tracking number using EMS.
We will send you an order confirmation through email once we received your order.
Delivery will usually take 3 to 5 business days to reach international destination, and please allow a maximum of 2 days for handling processes.
Orders are dispatched once a day from Monday to Friday at 4 PM, orders received after 4 PM will be processed the next business day.
SHIPPING TERMS AND CONDITIONS
Your order may be subject to local taxes and/or import duties, which are determined by your local customs authority. Bluesville have no control over these charges.
The customer takes full liability for all postal charges, return shipment costs, and handling fees if they refuse to accept the order due to import taxes and/or duties.
Once the order is delivered through couriers, we do not take any responsibility on lost packages.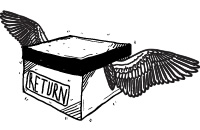 Return policy is not applicable for item(s) on discount.
Please note that purchased item(s) from our store are non refundable. We only accept returns for items with defect, fault, and/or damage.
Items must be returned in unworn, unwashed, and unused condition, with all the original labels and/or tags attached.
In order to return faulty items with defect and/or damage please provide photographic evidence.
Please note that detailed explanation of all returns is strongly recommended.
Returns are accepted within 7 days for domestic order and 14 days for international order after shipment received.
All returns must receive approval from our team before you can send the order back.
We will refund your money after returned item(s) arrived and inspected at our office.
Bluesville also accept size exchange as long as the desired size is still available.
For more support, please send an email to INFO@THEBLUESVILLE.COM with Refund & Return as the subject.
Or you can directly apply for a return using the returns website that has collaborated with bluesville at bluesville.returnkey.co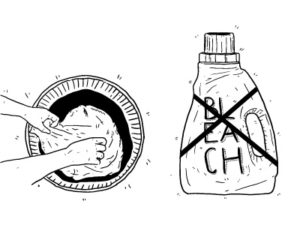 Washing Instruction
Due to the nature of Bluesville products, please note the following washing guide:
Hand wash cold is recommended.
Machine wash cold is safe, with minimal spin.
Bleached detergent should be avoided.
DO NOT use hot water to wash.
DO NOT use dryer.
Don't hesitate to ask us if you need more information regarding this issue, simply send an email to INFO@THEBLUESVILLE.COM with Washing Instruction as the subject.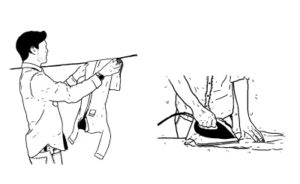 Bluesville products are quite delicate due to its natural production processes, to learn more on how to keep our products in good condition please note the following care guide:
Always wash cold. Initial water temperature should not exceed 30C or 85F.
Do not use any bleach product. Bluesville garment is not able to withstand bleach soap.
Regular steam or dry ironing may be performed at low setting (110C or 370F) to avoid damaging the garment.
Garment should be hanged dry from line or bar in shade, direct sunlight should be avoided.
Taking good care of your Bluesville product(s) will ensure them a prolonged lifetime. Please take a moment and read through the care guide recommendations mentioned above. Send us an email at INFO@THEBLUESVILLE.COM with Care Guide as the subject if you have any further question.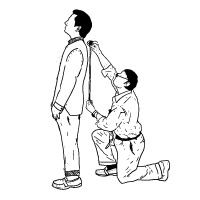 Bluesville products are genuinely made by hand, this method resulted in slight differences between each of our products measurement, and some products may shrink in average of 1.5CM – 2CM after multiple wash. The measurement shown above is based on average taken from multiple pairs of our garments.
For detailed size information for each product, please see product information on the desired product page. If you have further questions regarding this issue please send us an email at INFO@THEBLUESVILLE.COM with Measuring Guide as the subject.
Stockists:
Art & Science
ASHTA District 8, SCBD Lot 28 GF, Jakarta
Watts Makassar
Jl. Pengayoman No.11 Kota Makassar 90231
+628179228999

The Goods Dept
Pacific Place
1st floor #1-02
Jl. Jend. Sudirman Kav 52 – 53 SCBD
Jakarta 12190
Indonesia
+622157973644
WWW.THEGOODSDEPT.COM
Pondok Indah Mall 2
3rd floor #321
Jl. Metro Pondok Indah
Jakarta 12310
Indonesia
+622175920997
WWW.THEGOODSDEPT.COM
Lotte Shopping Avenue
Level 1 unit 1F #18-19
Jl. Prof. Dr. Satrio Kav, 3 – 5 Karet, Kuningan
Jakarta 12940
Indonesia
+622129889117
WWW.THEGOODSDEPT.COM
Lippo Mall Kemang
Ground Floor Unit 15-16
Jl. Pangeran Antasari No. 36
Jakarta 12150
Indonesia
+622129056810
WWW.THEGOODSDEPT.COM
BLUESVILLE HQ
Discovery Flamine Blok L/06
Bintaro Jaya, Sektor 9,
Tangerang Selatan 15227
Indonesia
Visit to our HQ is by appointment only. Please contact us before any visit through our contact channel below.
All enquiries:
INFO@THEBLUESVILLE.COM
+628111 0099 82
LINE: @bluesville
Online Customer Care Business hours: Monday to Friday (11AM – 6PM)
Please contact us through details above for all enquiries including custom made orders, collaborations and projects.
Wholesale Inquiries:
aryo@thebluesville.com